Cooperation and Debate at the Toronto International Microfinance Summit 2012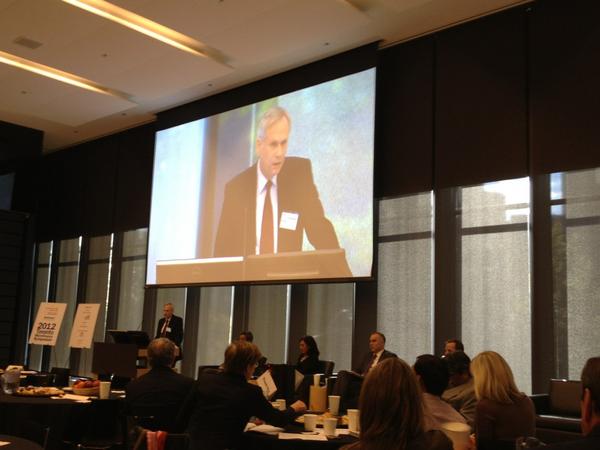 On Tuesday, October 16, the Toronto International Microfinance Summit brought together a diverse group of professionals from the worlds of finance, academia, nonprofits, international development and government to explore the topic of microfinance—the provision of financial services to marginalized populations to help alleviate poverty and drive economic development.
Since the 1970s, there has been an emergence of microfinance championed by the well-known successes of SEWA, Grameen Bank and ACCION. It is surprising, however, that 80 percent of the world is still excluded from financial services – a basic economic building block that has been recognized as a cornerstone of development.
Presenters from international aid and development organizations, NGOs, local microfinance agencies, and the Canadian International Development Agency heralded the principles of sustainable business and microfinance to address the challenges of poverty.
Canadian cooperatives abroad
In the first session, Anne Gaboury (President & CEO of Developpement International Desjardins) explained that cooperatives promote economic participation of marginalized groups and help contribute to the eradication of poverty.
The panelists generally agreed that cooperatives can be extremely influential, and that governments should legalize them whenever possible – but resist the urge to control or manage them. There is, however, always temptation to do so because of the important role that they play in economic development. Anuj Jain of the Coady International Institute commented that the "the lack of interference from the state has contributed a lot to the growth of the coop movement in India".
The panelists agreed that in order to increase the effectiveness of the international cooperative movement, we need to unite those that already exist, rather than create new organizations. Gaboury commented that "it's a question of strength and not a question of number."
Microfinance at work in Ontario
The second session profiled local initiatives. Both ACCESS Community Capital Fund and Rise Asset Development seek to reach individuals with business plans that have difficulty accessing credit from mainstream banks. Rise focuses on individuals with mental illnesses, and ACCESS has a focus on those that face challenges to passing traditional credit checks, such as recent immigrants or those that lack a credit history.
They are both independent organizations that seek to reduce their client's reliance on government assistance, whether the Ontario Disability Savings Plan or Employment Insurance. Both organizations gave inspiring presentations that explain how microloans, coupled with mentoring and support services, are enabling clients to be both independent and financially stable.
Surprising allies in international development
In the final session, an interesting conversation emerged between University of Ottawa's Prof. Stephen Brown and CIDA's General Director of Strategic Policy, Tobias Nussbaum around the role of foreign aid in the mining industry. Taking a cue from trends in the nonprofit and social business sectors, CIDA has begun to play a focused role in subsidizing CSR programs for mining projects in developing countries.
The mining industry is renowned for social and environmental abuses. It is also, however, a multi-billion dollar industry and a central pillar of the Canadian economy – therein lays the controversy. Critics, like Stephen Brown, claim that Canadian taxpayers shouldn't be subsidizing the mining industry's CSR activities. They are hugely profitable, and taking ownership of the development aspects may displace ownership from the proprietors of the damage.
Advocates for CIDA's activities say that mining, which is a form of foreign direct investment, is one of the greatest drivers of economic development. They operate in areas where there is very little economic activity and create industry and infrastructure. Nussbaum pointed out that foreign direct investment is one of the most effective ways to spur economic activity, "Poverty reduction is achieved by increasing economic development. Nine in ten jobs in developing countries are created by the private sector".
While mining companies and some NGOs seem to be quite pleased with CIDA's involvement, it seems slightly disturbing that Canadian taxpayers are footing the bill for programs executed by a profitable industry that is already deeply embedded in our political economy, while other arguably deserving NGOs have had their funding discontinued.
Microfinance and sustainable business offer hope that we can pursue economic prosperity and social responsibility simultaneously. Through continued examination of and discourse regarding the grey areas at the intersections of overlapping sectors at events like TIMS, we can continue to learn from the common challenges, ideally shaping improved strategies for future generations.
Photo credit: Toronto International Microfinance Summit on Twitter